Vinyl Siding
These days, vinyl siding is the most popular and the most common siding material in Canada. At a relatively low cost, it provides an appealing look with virtually no maintenance required. You can choose almost any color imaginable, and the goes all the way through the plastic material, so you don't need to worry about scratching.
With vinyl siding, you can choose between multiple styles, different widths, shakes, shingles, and other options. It's also much easier to install vinyl siding, so the labour costs are less. This makes it the most affordable siding choice available.
There are a lot of reasons why vinyl siding became the most popular choice for new construction, remodeling, and renovation. It provides the warm and beautiful appearance of wood, but without the time-consuming maintenance and repairs. Vinyl siding will not split, peel, or rot and — because its color goes through the whole panel — it never has to be scraped, stained, or painted. All you need to keep your new vinyl siding looking great is a garden hose, and it will shine for years to come.
Benefits of Vinyl Siding
– Doesn't need painting
– Can be washed with water
– Vast number of options in colors and tones
– Comes in different styles (lap, scallops, shakes, fish scales, and other)
– For energy efficiency, you can pick an insulated vinyl siding (with foam backing)
– Will last for decades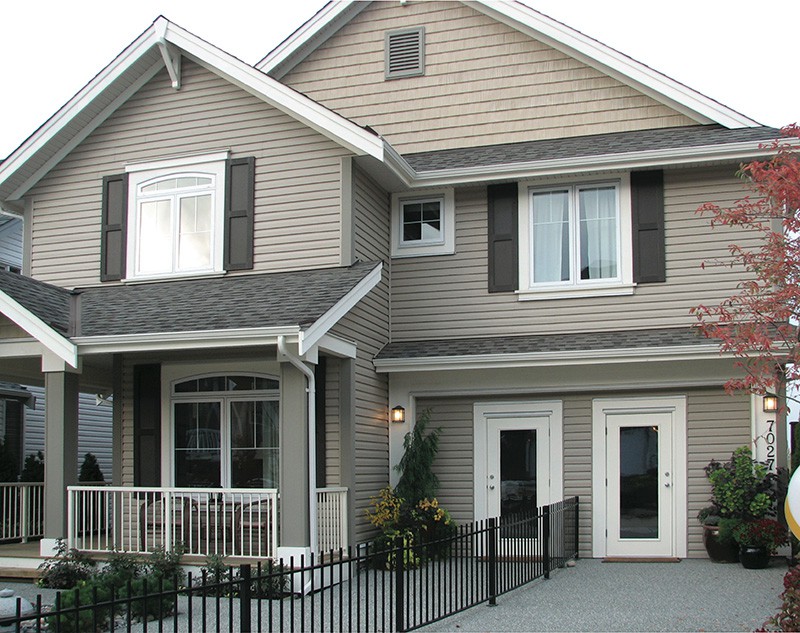 Homeowners typically prefer vinyl siding, not just for its durability, but also for its beauty. It comes in many different colors and textures, while it gives complete control over home design. Traditionally, vinyl siding was produced mostly in pastel and earthy tones; however, these days, almost all colors are available. You can make your house look unique by choosing bright, saturated colours.
Regardless of which hue you choose, vinyl siding retains its colour exceptionally well. As with any product, it will eventually begin to fade, but the fade rate is much slower than painted wood. This is due to the fact that the colour runs completely through the texture of vinyl. It is also attributed to the fact that small scratches on vinyl are almost invisible, unlike a painted surface, where any damage is readily apparent — even if it's just a scratch.
History of Vinyl Siding
Vinyl siding was first introduced to the construction market in the 1950s and 60s, when it was just a replacement of aluminum siding and wasn't a top-quality product. Later, in the 1970s, it underwent a transformation as new technology emerged. Production speed increased, vinyl became more impact-resistant, and the range of colors extended widely. Since that time, vinyl siding steadily grew in popularity, due to its durability and ease of maintenance. When fiber cement siding was introduced to the market, it became a direct competitor.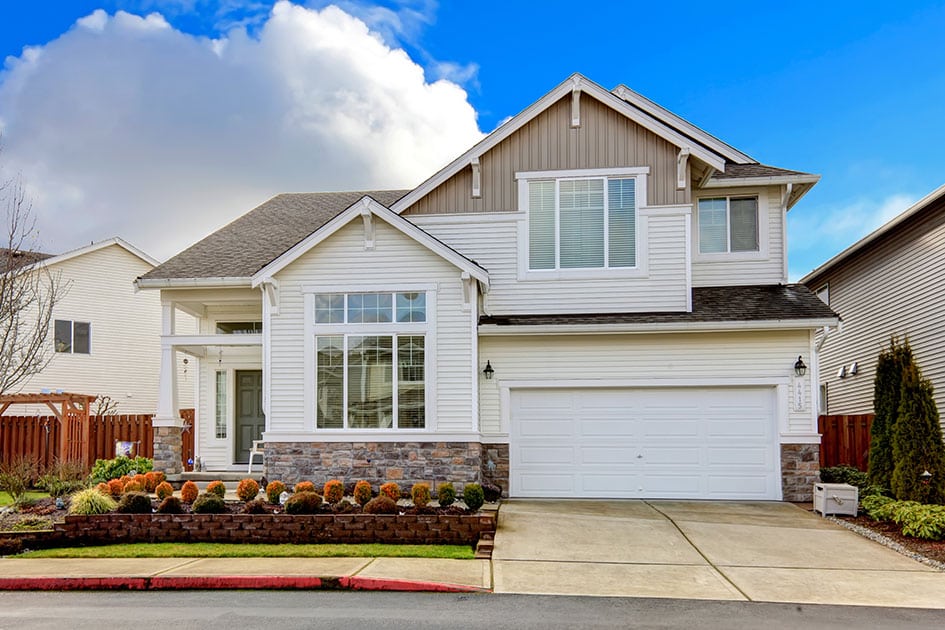 Nowadays, vinyl siding is commonly used throughout Canada and can be observed in a wide range of product quality (realized through differences in thickness and lasting durability). Thickness varies from about .30 mil (in a cheaper grade) to .60 mil (in a higher grade), and quality generally depends on the manufacturer. Vinyl siding can vary in thickness, even within a manufacturing company.
Thicker vinyl products — usually sold at a higher cost — are more rigid, have a longer life expectancy, and are more resistant to its the most common complaint: the tendency of vinyl siding to crack in very cold weather or when it is struck by a hard object. Because Vancouver, and nearby cities, have relatively warm weather year-round, it's not a common concern for homeowners here.
Chemical formulas of vinyl siding vary from manufacturer to manufacturer, which can impact life expectancy. The most important feature to consider is a UV coating, which is applied to the surface of the product and filters out UV spectral light from the sun.  As a general rule, the higher the grade of a product, the more resistant it is to fading.
Types of Vinyl Siding
There are numerous types of vinyl siding on the market. You can choose between vinyl siding board, vinyl siding fake brick, vinyl siding fake wood, vertical vinyl siding, fake stone vinyl siding or traditional (certified) vinyl siding. With today's technology, you can make your vinyl siding look just like stone or wood, even up close. This option is also very cost effective, which you will see when you compare with other alternatives (like fiber cement or cedar siding).
Just remember: vinyl is guaranteed not to rot or peel, and it will not ever have to be painted after installation. Since plastic siding is an artificial product, you have access to an unlimited choice of colors. When buying vinyl siding materials, you should always compare the thickness of the panels. The thicker the panel, the more durable the vinyl siding is and the longer it will last.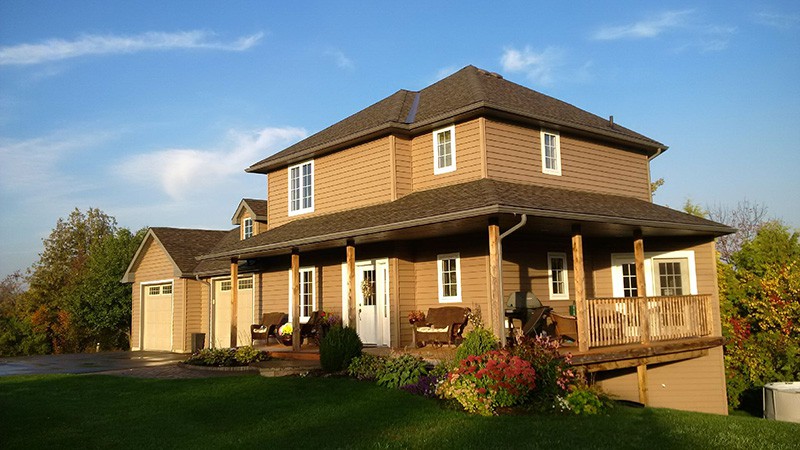 The great thing about vinyl siding is that your home still has the potential to be the best-looking house in the neighbourhood, even though it may be run down and the paint on it may be thirty years old. Vinyl siding can be applied over brick and stone structures, as well as over wood and concrete structures.
The entire siding project can be completed in a short amount of time, if done by Vancouver Siding Company. The value of your home will increase significantly and, if you decide to sell it later, you'll receive higher offers. Energy efficient, modern and stylish, your new siding will give your home a personal touch and the feel it had when you first built or purchased it.
Insulated Vinyl Siding
Not so long ago, manufacturers of vinyl siding introduced an insulated version that incorporates vinyl with an insulated backer board. With these products, you get the durability and low maintenance of vinyl siding, combined with the thermal qualities of foam. Such a combination can increase the insulation value of your exterior walls by more than a 30%.
Also, the foam insulation inlay makes your siding stronger; by adding support to the vinyl panel, it makes your home noticeably more resistant to outside noise. This variety of vinyl siding may cost a little more than its regular counterparts, but the added value (in terms of comfort and energy saving) is well worth it.
With insulated vinyl siding, you get:
– All of the benefits of regular vinyl siding
– Increases the insulation value of the house, creating lower energy bills
– Construction is stronger than regular vinyl siding
– Makes the home more resistant to outside noise
Vinyl Siding Installation
In conclusion, we can say that vinyl siding is a great choice. It's durable and easy to maintain, but sometimes tricky to put up. With Vancouver Siding experts, you can be confident that your new siding will be professionally installed. It's the best, worry-free way to make your home look as good as a new one.
Vancouver | Burnaby | Surrey | Richmond | Coquitlam | Langley | Maple Ridge
New Westminster | West Vancouver | North Vancouver | Port Coquitlam | Port Moody
Lions Bay | Pitt Meadows | White Rock | Delta | Abbotsford | Chilliwack | Tsawwassen
Call us to request a free estimation:
604-229-0033
778-650-5112
Or E-mail:
info@SidingInVancouver.com