Victoria Siding
About Vancouver Siding (servicing Victoria as well!)
Vancouver Siding is one of the largest siding companies in BC and located within the Greater Vancouver Area. However, as we grow, we are able to bring our services to Victoria on the island as well. We work hard to ensure you have all the information you need to make sure your siding project goes as smooth as possible, from beginning to end. Not only that but we only have the best crews that do not cut corners and guarantee the job is done with best practices, up to code and satisfaction.

We work with all different materials to give you options and to make sure you get the look you want for your home. In addition to this, our company is an Elite Preferred contractor in the James Hardie Contractor Alliance Program. This means we are highly trained in James Hardie siding products and we meet the criteria that is set by the company – this includes having crews that are professional and have a lot of experience in installing James Hardie fiber cement while also providing a high level of customer satisfaction.
Pricing of siding in Victoria, BC
According to our research, we have found that prices for siding projects in Victoria on the island costs homeowners on average 20% more than on the mainland. After looking into this further, we found that the price of materials and labour is similar, so the increased cost did not add up. We strive to bring our great competitive prices to the island so homeowners can repair or change the siding of their home at an affordable price. We will continue to have the best crews to ensure you are satisfied with the completed job.
There are a number of different factors that make up the total cost of doing a siding project. The best way we can give you an estimate is to view the home in person and access things like size, location, accessibility, and current condition of the house. In addition to this, time of year and types of materials used can all impact the cost. Optional elements like soffits and fascia board can be included to give the home added protection but also give the home a more refined look.
Our price includes everything from materials with delivery, demolition, inspection, and all aspects of installation including waste removal. When comparing pricing of different siding companies, make sure the scope of work is the same and everything is included, or you will end up incurring additional costs than the price that was quoted.
The average cost of siding materials:
| | |
| --- | --- |
| Material | Price per sq ft* |
| James Hardie Colour Plus (Fiber Cement) | Starts at $10.50 (including demolition and preparation, supply and installation) |
| Vinyl | Starts at $7.50 (including demolition and preparation, supply and installation) |
| Premium Vinyl | Starts at $8.25 (including demolition and preparation, supply and installation) |
| Cedar | Starts at $13.50 (including demolition and preparation, supply and installation) |
| Acrylic Smooth Stucco | Starts at $13 (including demolition and preparation, supply and installation) |
| Longboard | Starts at $19.50 (including demolition and preparation, supply and installation) |
| AL-13 | Starts at $18 (including demolition and preparation, supply and installation) |
| Cultured Stone | Starts at $29.75 (including demolition and preparation, supply and installation) |
* The cost of different materials can vary greatly in terms of cost for supply and install cost. Some materials are tougher to install and would include more labour and time which will increase the price. In addition to supply and install cost, some materials (like cedar) will cost more in terms of maintenance and to keep it looking great for years to come.
An example of price for cost of a renovation using vinyl siding is about $7-8 per square foot. For a house that is around 2,000 square feet, the price would be around $14,000-$16,000. The same house that is using James Hardie siding would cost about $21,000 or about $27,000-$30,000 for cedar plank siding.
Types of Siding (popular options in Victoria)
On Vancouver Island, the logging industry is very widespread and one that contributes a large and important part of the economy. Due to the prevalence of logging on the island, cedar continues to be a commonly used siding material, despite the hefty price tag that comes with it. Our company wants to give homeowners other options in terms of siding materials and to show that you can get a new look for your home that holds up and looks just as great. For example, fiber cement has many options in terms of looks and costs about half the price of cedar siding. It has many more benefits that will keep your home looking great for many years to come while protecting it from the wavering island climate.
See below to see some advantages and disadvantages of commonly used siding materials.
James Hardie (Fiber Cement) Siding:
Fiber Cement is manufactured but has a nice natural look to it. There are many options to choose from and often has a nice curb appeal. In addition, it is very durable, does not rot or attract pests, is dimensionally stable, highly fireproof, and easy to repair. It also comes in a pre-painted and primed with higher warranty. Although there are many pros to fiber cement, these come with a higher cost (for material and labour) and eventually it has to be repainted so maintenance cost can add up as well.
See below for some examples of colours of James Hardie available: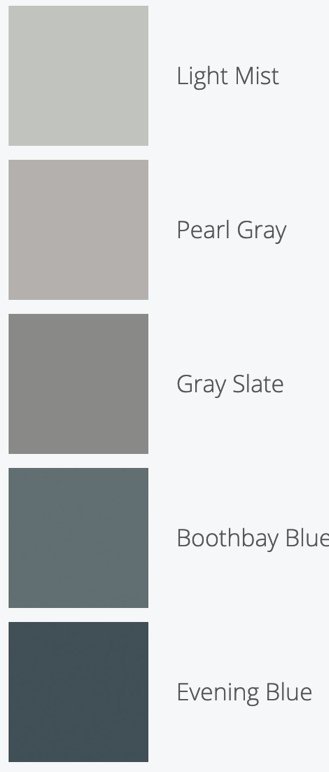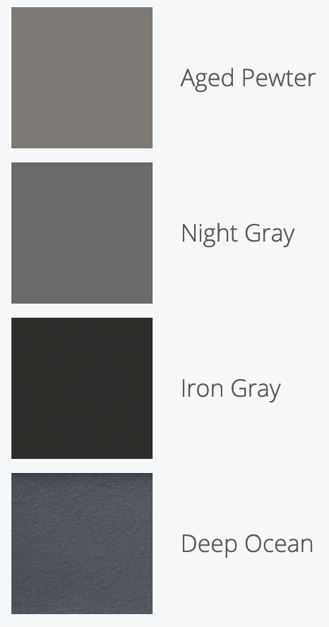 Vinyl Siding:
Vinyl is a synthetic material available in many colours and sizes. It is long lasting and durable and does not need painting (it retains colour well). If vinyl gets dirty it can be washed with water. In addition, it does not rot and peel easily, it is low maintenance, low cost, and can be insulated for higher energy efficiency. Although vinyl has many advantages, it also has a few disadvantages. It can dent easily, become brittle and crack under cold temperatures, and melt and warp in hot temperatures. Also, due to the overlap vinyl can be difficult to repair only a portion.
Cedar Siding:
Cedar siding has a natural look that can be left as is or stained many different colours. If cared and treated properly, cedar will be insect and moisture resistant. Some homeowners like the natural components that are environmentally friendly. In addition, it is durable, has great workability (easily to cut, glue, and finish), and installment and repair is relatively easy. The disadvantages of cedar are that it is high maintenance (has to be stained and sealed regularly), it has a high cost, can be highly flammable if not treated properly, and susceptible to damage from termites, woodpeckers, and rot.
Aluminum (AL-13/Longboard)
Different metals are a very popular material when durability is key. They come in horizonal and vertical formats that allow more freedom and choice. Additionally. It is very insulating (in turn energy efficient), light and easy to install, does not swell, rot, mold, or rust, keeps moisture out well, and is insect proof and fire resistant. It is also important to note that aluminum will dent and scratch easily which can be unappealing to some. In addition, it is difficult to replace only a portion, a higher grade is important, it can be loud during strong winds, and it is quite expensive for material and labour.
Stucco:
Stucco is a cement plaster wall covering that used to be a very popular siding choice. It is durable and long lasting and there are many options where application can change shapes and textures. In addition, it is low maintenance and it stands up well in warm and dry weather. The disadvantages of stucco are that it may crack as the home expands and contracts, it often comes with a high cost (mainly in terms of labour), and it is not ideal for high humidity climates.
Cultured Stone:
Cultured stone is manufactured stone that is intended to look natural. It is very similar to stone even though it is manmade. It is also lightweight and durable. The disadvantages of cultured stone are that exposure to elements can reduce the aesthetic appearance, it is costly, and moisture can easily penetrate if not properly installed.
As you can see, cost of different siding materials is not the only factor to consider. Some materials last longer than others and can vary in terms of upkeep. It is a good idea to research the material you would like and see if it fits your wants and needs to make an informed decision. If you are unsure, our experienced team can help you decide on siding that will work for you.
Maintenance of Materials
As mentioned above, maintenance should be an important factor to consider when choosing siding that works for you. Certain materials require more upkeep to ensure they continue looking great.
James Hardie fiber cement requires little maintenance. It may have to be repainted eventually, but the company guarantees that the product will continue to look great after many years by including a 30 year warranty for material.
Vinyl is another product that requires very little maintenance. It does not need to be repainted and if it becomes dirty can be washed fairly easily. Ideally vinyl is good for areas that do not have extreme temperatures.
In addition, stucco and aluminum also require little maintenance. They hold up well to the elements and will last for a long time. Cultured stone requires some cleaning to keep them looking fresh but other than that are quite maintenance free. Cedar requires the most maintenance as it often has to be sealed and re-stained to keep it looking great but also to protect it from elements that may penetrate.
Locations
Our company is based out of the greater Vancouver area but we are servicing Victoria and Nanaimo (and all areas up to 100km around those cities) on Vancouver Island as well. We strive to bring our expertise and great customer service to as many areas in Vancouver as possible. We will gladly work with homeowners 100km from Victoria to reach as many people as possible while providing the most competitive pricing in the industry.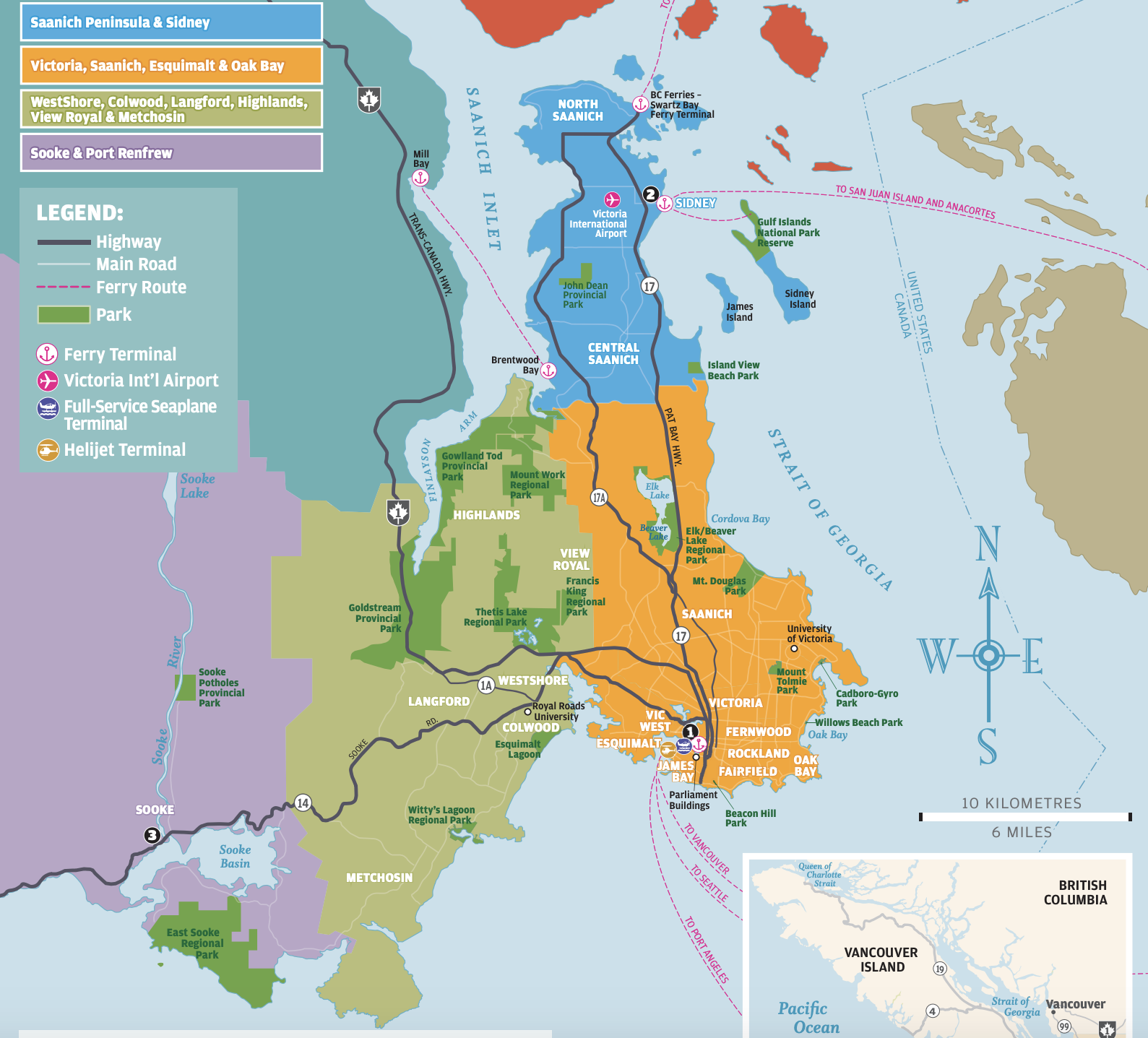 Certification
Our company prides itself on having all the proper certification to do every job with quality control and workmanship while ensuring every customer is pleased with the results. By choosing us, you can be sure that you are provided with the most experienced and professional team to do your siding project. We continually exceed industry standards and make sure every product we provide is the best of the best.
Below you can see a comparison of a siding project done by an inexperienced contractor (the first image below) and one done correctly by us (the second image below).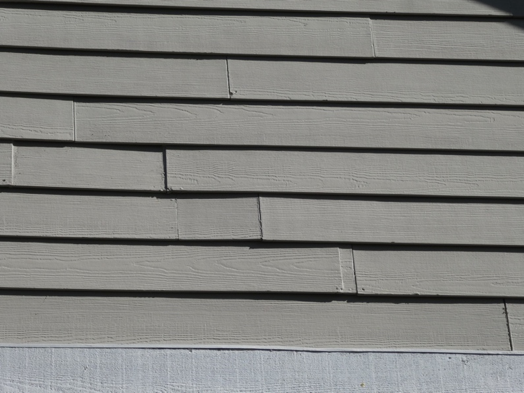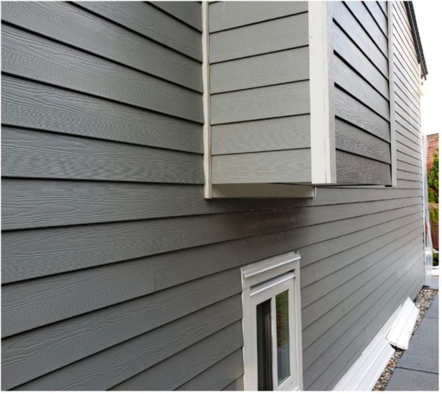 By being a certified contractor through the James Hardie company, you can be sure that your fiber cement product will be installed correctly and follow quality standards set by the company.
Call us today for a free consultation and estimate 604 229 0033 or email info@VancouverSiding.com.