Nanaimo Siding
About Vancouver Siding (now serving Nanaimo area as well!)
Vancouver Siding is one of the largest siding companies based in the greater Vancouver area and Vancouver Island (Nanaimo division office number 778-762-5471, WCB # 069483). We pride ourselves in providing you with all the information you need to make an informed decision about your siding needs while providing great customer service that is available any time of day. The company is expanding to bring our superior service and expertise to Nanaimo on Vancouver Island.

Our crews are highly capable of working with any siding material you may want. If you are unsure of the siding that will best fit your needs, we are here to help you make an informed decision based on the area, look, and price that works for you. In addition, our company is a James Hardie Elite Preferred Contractor meaning we ensure your fiber cement siding is always installed properly, to your satisfaction the first time, as set by the standards of the James Hardie company. This way you can enjoy the look of your home without worry for years to come.
Pricing of siding in Nanaimo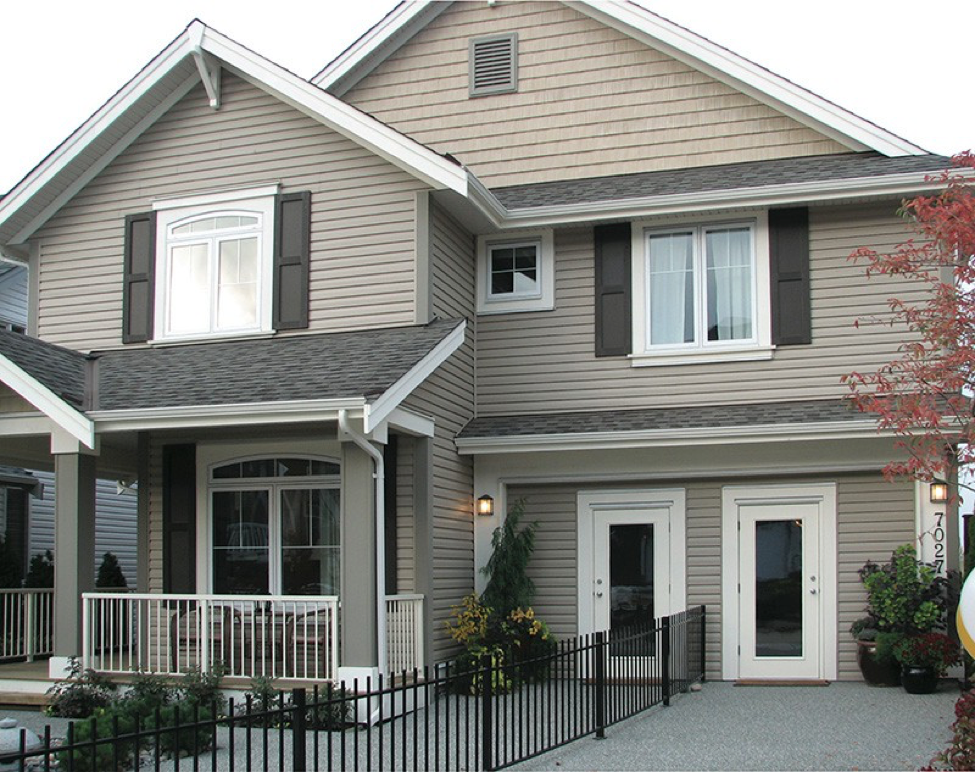 When looking at the cost of siding, it is important to consider a number of different factors that may contribute to a change in price. Some of these factors include: types of materials, accessibility to the home, time of year, and size of home. Additionally, any optional elements (like soffits and fascia boards) that can add curb appeal and life span to your home, will be an extra charge.
When comparing pricing of different siding companies, it is important to look at the scope of work that is included for the price. To do a siding renovation, demolition of old material and removal, inspection of materials and rotten or decaying parts, and materials and installation are all included. It is also important to check that the company you chose to do your siding is using quality materials that will last the life span it is intended to.
See below for cost of siding renovation for different materials:
| | |
| --- | --- |
| Material | Price per sq ft* |
| James Hardie Colour Plus (Fiber Cement) | Starts at $8.50 (including demolition, waste removal, sheathing inspection, rainscreen, supply and install of siding, etc) |
| Vinyl | Starts at $5.25 (including demolition, waste removal, sheathing inspection, rainscreen, supply and install of siding, etc) |
| Premium Vinyl | Starts at $7.75 (including demolition, waste removal, sheathing inspection, rainscreen, supply and install of siding, etc) |
| Cedar | Starts at $11.00 (including demolition, waste removal, sheathing inspection, rainscreen, supply and install of siding, etc) |
| Stucco | Starts at $11 |
| Longboard | Starts at $20.50 |
| AL-13 | Starts at $19 |
| Cultured Stone | Starts at $30.75 |
As you can see, price varies greatly depending on the material that is used because cost for supply can be greater but can also cost more to install because of complexity. In addition to this, certain materials require more maintenance (like cedar) so they will end up costing more long term.
An example of price for cost of a renovation using vinyl siding is about $7-8 per square foot. For a house that is around 2,000 square feet, the price would be around $14,000-$16,000. The same house that is using James Hardie siding would cost about $20,000 or about $27,000 for cedar siding.
Types of Siding
The location of homes plays a factor in determining which materials are most commonly used for siding. On Vancouver Island, the logging industry is very prevalent therefore cedar is a popular choice for residents. However, the cost of cedar is almost double that of Fiber Cement. At our company, we want to ensure homeowners have different options to choose from based on the look they are going for and the budget they have.  Below are materials that you can choose from and some advantages and disadvantages of each.
Vinyl Siding:
Vinyl is a synthetic material available in many colours and sizes. It is long lasting and durable and does not need painting (it retains colour well). If vinyl gets dirty it can be washed with water. In addition, it does not rot and peel easily, it is low maintenance, low cost, and can be insulated for higher energy efficiency. Although vinyl has many advantages, it also has a few disadvantages. It can dent easily, become brittle and crack under cold temperatures, and melt and warp in hot temperatures. Also, due to the overlap vinyl can be difficult to repair only a portion.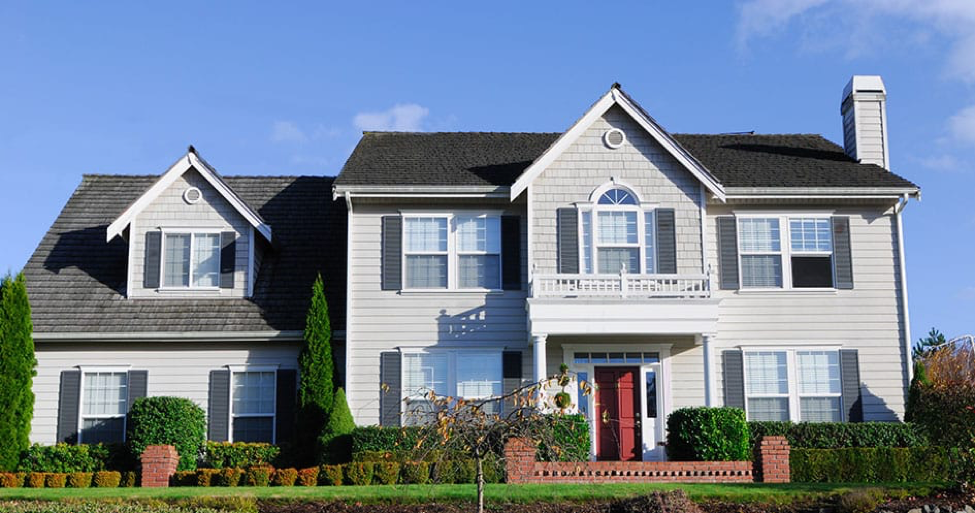 Cedar Siding:
Cedar siding has a natural look that can be left as is or stained many different colours. If cared and treated properly, cedar will be insect and moisture resistant. Some homeowners like the natural components that are environmentally friendly. In addition, it is durable, has great workability (easily to cut, glue, and finish), and installment and repair is relatively easy. The disadvantages of cedar are that it is high maintenance (has to be stained and sealed regularly), it has a high cost, can be highly flammable if not treated properly, and susceptible to damage from termites, woodpeckers, and rot.
James Hardie (Fiber Cement) Siding:
Fiber Cement is manufactured but has a nice natural look to it. There are many options to choose from and often has a nice curb appeal. In addition, it is very durable, does not rot or attract pests, is dimensionally stable, highly fireproof, and easy to repair. It also comes in a pre-painted and primed with higher warranty. Although there are many pros to fiber cement, these come with a higher cost (for material and labour) and eventually it has to be repainted so maintenance cost can add up as well.
Aluminum (AL-13/Longboard)
Different metals are a very popular material when durability is key. They come in horizontal and vertical formats that allow more freedom and choice. Additionally. It is very insulating (in turn energy efficient), light and easy to install, does not swell, rot, mold, or rust, keeps moisture out well, and is insect proof and fire resistant. It is also important to note that aluminum will dent and scratch easily which can be unappealing to some. In addition, it is difficult to replace only a portion, a higher grade is important, it can be loud during strong winds, and it is quite expensive for material and labour.
Stucco:
Stucco is a cement plaster wall covering that used to be a very popular siding choice. It is durable and long lasting and there are many options where application can change shapes and textures. In addition, it is low maintenance and it stands up well in warm and dry weather. The disadvantages of stucco are that it may crack as the home expands and contracts, it often comes with a high cost (mainly in terms of labour), and it is not ideal for high humidity climates.
Cultured Stone:
Cultured stone is a manufactured stone that is intended to look natural. Although it is manufactured, it is very similar to stone. It is also lightweight and durable. The disadvantages of cultured stone are that exposure to elements can reduce the aesthetic appearance, it is costly, and moisture can easily penetrate if not properly installed.
Maintenance of Materials
When choosing siding that works for you, maintenance is an important factor to consider. Very low maintenance materials include vinyl, fiber cement, aluminum, and stucco. When these materials are installed and cared for properly, they should be able to last the intended life span. Additionally, vinyl, fiber cement, and aluminum often come with 20+ year warranty for the material. Cultured stone requires a bit more maintenance but is still fairly low. On the other hand, cedar requires high maintenance and often has to be sealed and re-stained to keep it looking fresh.
Locations:
Although our company is based out of the greater Vancouver area on the mainland, we have been working to be able to bring our great service and expertise to Vancouver Island. On the island, we will service within 100km of Nanaimo so homeowners can take advantage of our competitive pricing.
Certification:
At Vancouver Siding, we place importance on having the proper certification to do siding the correct way. This is why all our crews are highly professional and you can trust that they have the experience and knowledge to complete every project following best practices without cutting corners. See below for an example of a job completed by an inexperienced contractor and one completed by us, done to standard.
James Hardie is very particular about how their product is installed therefore it is important to hire someone that is experienced who knows the different requirements. Above, you can see that the spacing of the siding is not consistent and is very loose. This can be caused by a lack of sheathing underneath the siding that would be impossible to correct once the siding is put on. This is an example of a job completed by an inexperienced contractor.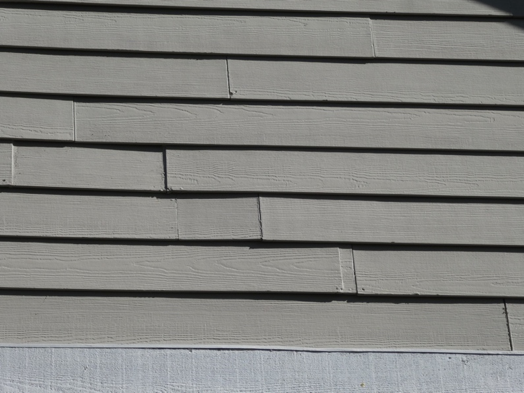 Below, you will see James Hardie that has been installed correctly by us. Proper spacing of fiber cement siding ensures wind and water are able to move freely on the side of the home without getting trapped.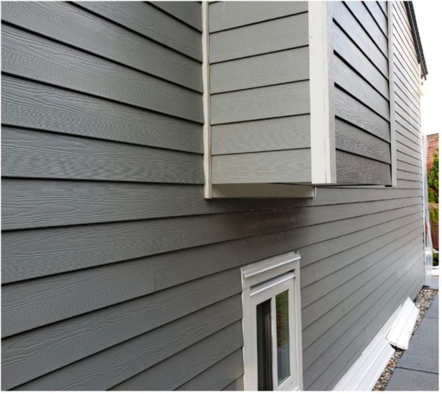 Call us today at 778-762-5471 or email info@vancouversiding.com to receive a Free Estimate and Consultation.